Eagle总裁致辞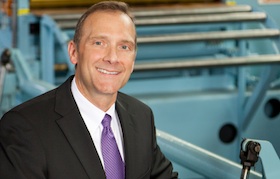 总裁-Joe Eddy先生逾120年的商业洗礼,Eagle Manufacturing Company公司持续自豪的传统——向客户们提供着革新性的高品质产品和服务。
很高兴能借此机会介绍Eagle的新面貌。我们相信以全新的姿态展现Eagle的品牌形象正当时,以更好地反映我们高品质的产品、服务和服务客户。我们希望此月新设计的,带着全新产品照片,最新的内容和最新的产品发布的官网,能够能给您愉悦感受。再者,Eagle的符合规制的产品目录——C.L.A.W.S.合规应用指南,产品销售单页以及其它一些营销材料,都体现和全新的Eagle品牌形象。我们希望您能够新欢Eagle的新面貌。
此外,我们一处全新的仓储与配送中也正在建设之中,它将坐落于现今我们西弗吉尼亚州Wellsburg总部的24号大街运营中心附近。 该项目规划在未来三年内分两阶段实施,并且最终将为我们的仓储配送系统增加超过10万平方英尺的新生场地面积。
同时,我需要感谢Eagle的营销团队,为他们为新品牌形象的树立所做的努力,特别要感谢团队里兢兢业业的员工们,他们是真的关心Eagle的成长,并一直在致力于,公司能够继续提供给我们的客户,最好的品质,高附加值的产品、服务和工业应用解决方案。
随着新的聚酯塑料桶、安全罐、盛漏容纳和斜坡产品的加入,Eagle的产品线已经扩大到750种涉及工业安全与危害品物料处理产品的,包含安全容器、安全柜、盛漏容器、聚酯塑料桶、交通安全以及一整套的防护、保护和物料处理的产品阵营。
我们能够自豪地说,我们所有的产品均是美国原生制造。当您购买了一件Eagle的产品,你即拥有了最好的品质、工艺和价值,以及如同我们的产品一样可靠和具有革新性的出色的客户服务。
衷心感谢我们所有的客户,为您们的青睐、支持与信任。谢谢!
Letter from the President
After 120 years in business, Eagle Manufacturing Company continues the proud tradition of providing innovative, quality products and services to its customers.
I would like to take this opportunity to introduce Eagle's new appearance. We believed it was time to refresh the Eagle brand to better reflect the quality of products and services we provide to our customers. We hope you will enjoy our newly designed website, which launched this month and features new photography, updated content and our newest products among more. Additionally, Eagle's compliance solutions product catalog, C.L.A.W.S. Regulatory Compliance Guide, product sell sheets, and several other sales and marketing materials, now all feature the new Eagle brand. We hope you'll enjoy our new look!
Additionally, we are constructing a new warehouse and distribution center, which will be located adjacent to the current 24th Street operations at our headquarters in Wellsburg, W.Va. The project is planned to be completed in two phases within the next three years and will ultimately add 100,000 square feet of space dedicated for warehousing and distribution.
I want to thank our marketing team for their work on the new branding campaign, as well as all of our dedicated employees, who truly care about Eagle, and strive every day to ensure this company continues to provide the highest quality, best value products, services and industry solutions to our customers.
With the addition of new poly drums, safety cans, spill containment products and ramps, the Eagle product family has now grown to include over 750 industrial safety and hazardous material handling products, including safety containers, safety cabinets, spill containment, poly drums, traffic safety and a full line of guarding, protection and material handling products.
We are proud to say that all of our products are made in the United States of America! When you purchase an Eagle product, you are assured the best quality, craftsmanship and value on the market, supported by exceptional customer service, as reliable and innovative as our products!
Thank you to all of our customers for your continued loyalty, support and trust.