Eagle公司简介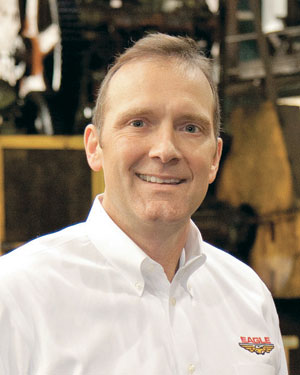 总裁-Joe Eddy先生Eagle Manufacturing Company - 一家始于1894年的美国传统企业,是安全罐、安全柜、二级泄露盛装产品、聚酯桶、物料处理产品和烟蒂收集管等产品的世界级顶尖制造商。Eagle所有的产品线都是自己设计与生产的,并通过了ISO-9001:2008质量管理体系的认证,成为因稳定的质量和产品价值而享誉业内的知名品牌。所有Eagle下属产品线均是"美国制造"。
Eagle是工业安全和物料处理产品的世界级顶尖供应商,所提供的产品专为各类承建商、制造商、机构、军队、专业人员、政府、印刷行业、化学、作坊、交通运输、纺织工厂、汽车、农业、医药、能源油气、电器及其它工业与商业客户服务。
Eagle全线产品均为"安规解决方案"产品,以帮助产业用户达到地方、国家和联邦的相关危害品处理与存储的安规与条例。

衷心感谢我们所有的客户朋友,谢谢您们的支持与信任!
About Eagle Manufacturing Company
Eagle Manufacturing Company, a family owned business established in 1894, is a prime world leading manufacturer of Safety Cans, Safety Cabinets, Secondary Spill Containment Products, Poly Drums, Material Handling Products and Cigarette Receptacles. Eagle designs and manufactures all of its own products. Eagle is certified to the ISO-9001:2008 Quality System and is the most respected brand name for consistent quality and value. All of Eagle's products are "Made in USA."
Eagle is the leading supplier of these products, offering a large selection of the industrial safety and material handling products for contractors, manufacturers, utilities, military, professional, government, printing, chemical, fabricators, transportation, textile mills, automotive, agricultural, medical, oil & gas, electrical and other industrial and commercial customers.
Eagle products are "Compliance Solutions" that help industry meet strict Local, State and Federal Regulations concerning the handling and storage of hazardous materials.
Thank you to all of our customers for your continued loyalty, support and trust.